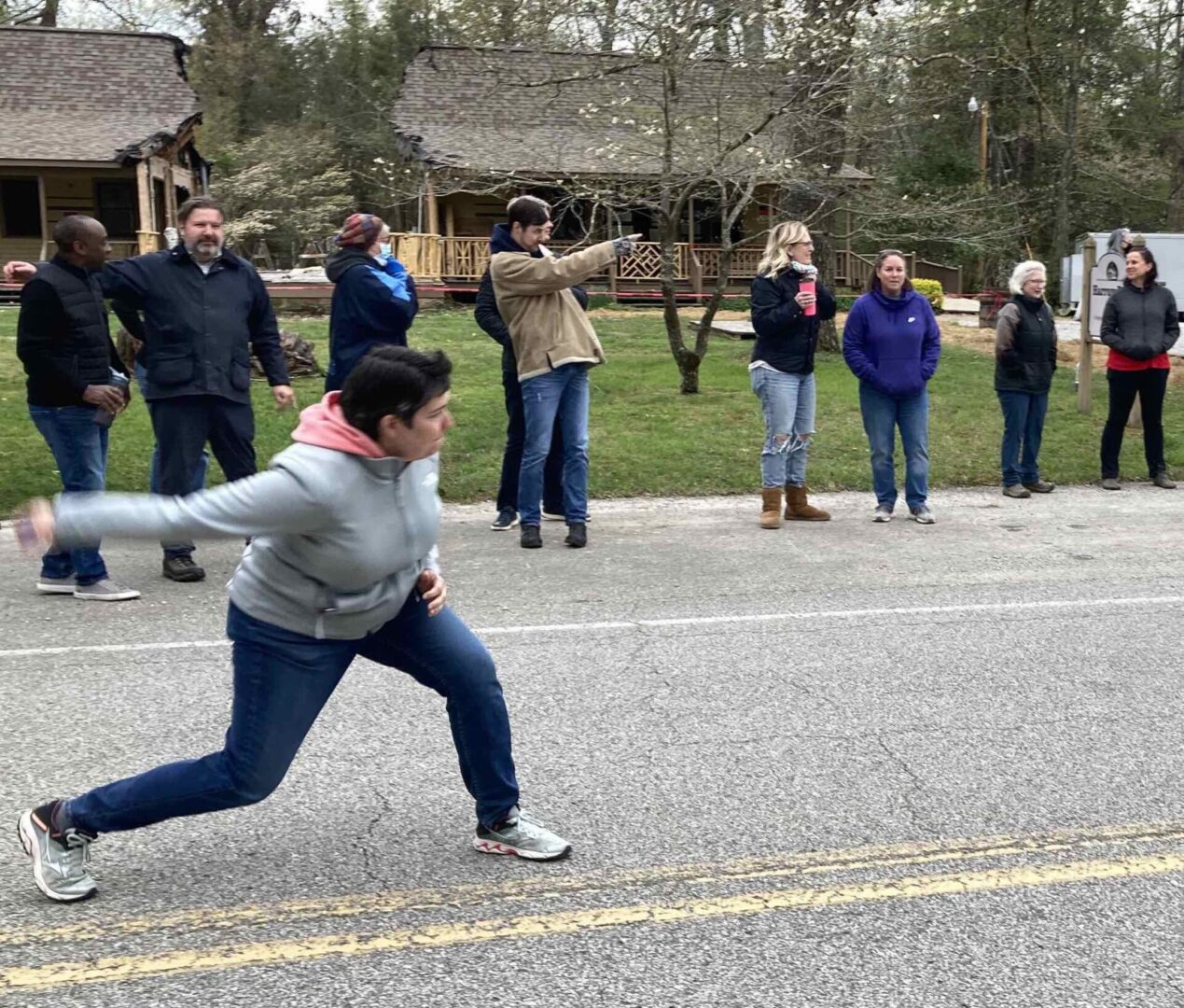 Opening Day Road Bowl Tournament & Hike
March 18 @ 10:00 am - 5:00 pm EDT
Historic Rugby reopens for 2023 with a special day of activities including a Road Bowling Tournament (sign-in Noon-12:30 Eastern at the Visitor Centre and event start 1 p.m. Eastern, with a registration link HERE ) and hike starting 10 a.m. Eastern at the Visitor Centre (no registration required), with early spring wildflowers in evidence. Tours of the historic buildings will be offered. Join in the fun and bring the family!
Details on the Second Annual Rugby Irish Road Bowling Tournament: Gather your team of 2, 3, or 4 and show your stuff.  Sign in at the Visitor Centre noon-12:30 Eastern then the tournament starts at 1 pm Eastern at the Clear Fork Area Volunteer Fire Department on the west end of Rugby near RM Brooks Store. Wind your way along Rugby Parkway to the finish line at the sign in front of the Harrow Road Canteen. Only $15 per person. Winners are determined by the fewest number of throws to complete the course. Participants get a 2023 tournament wrist band at check-in as well as a cannon ball to roll and a score card. Rugby Irish Road Bowling t-shirts ($20) and special cups ($3) are also available.
Homemade Fish & Chips will be available at the Harrow Road Canteen, as well as beer and coffee from the MoCo Brewing Project in Wartburg, TN. Entertainment with Irish Music will liven the event 1-3 Eastern by the Missing Goats group from Oak Ridge. Special thanks to the event sponsor, the Morgan County Tourism Alliance.
End the day (or start it onsite) by staying in Historic Rugby's unique lodgings. Check availability HERE.
MORE DETAILS HERE: On Thursday, March 16, Historic Rugby's tours resume and our shops and print shop re-open to visitors.
Here's a rundown of events in Historic Rugby for Saturday, 3/18:
10 am-Noon EDT: Third Saturday Hike. We'll be headed down the trail late Rugby resident Eric Wilson helped create. This hike is free and registration is not required – Just meet outside the Rugby Visitor Centre and be prepared to make some fabulous new friends!
Noon-12:30 pm EDT: Registration opens for the Irish Road Bowling Tournament. Register your team (or join one) at the Rugby Visitor Centre. Don't worry if you've never played before. Anything can happen & anyone can win. No prior experience is required.
1 pm EDT: Rugby's 2nd Annual Irish Road Bowling Tournament starts! We'll be playing on an expanded course for the tournament instead of the usual one we follow, so prepare for added hijinks, hilarity and balls in the brambles!
The Harrow Road Canteen will be open that Saturday, serving fresh fish and chips. MoCo Brewing Project will have beer and coffee for sale.Tthe Missing Goats will be performing Irish folk music!
Come for the day or stay for the weekend in one of our cozy historic lodging options.
All proceeds help support the year-round preservation and educational efforts of Historic Rugby.
Special thanks to our tournament sponsor, the Morgan County Tourism Alliance (MCTA).