Visit our Victorian village founded in 1880 on Tennessee's Cumberland Plateau in Morgan & Scott counties!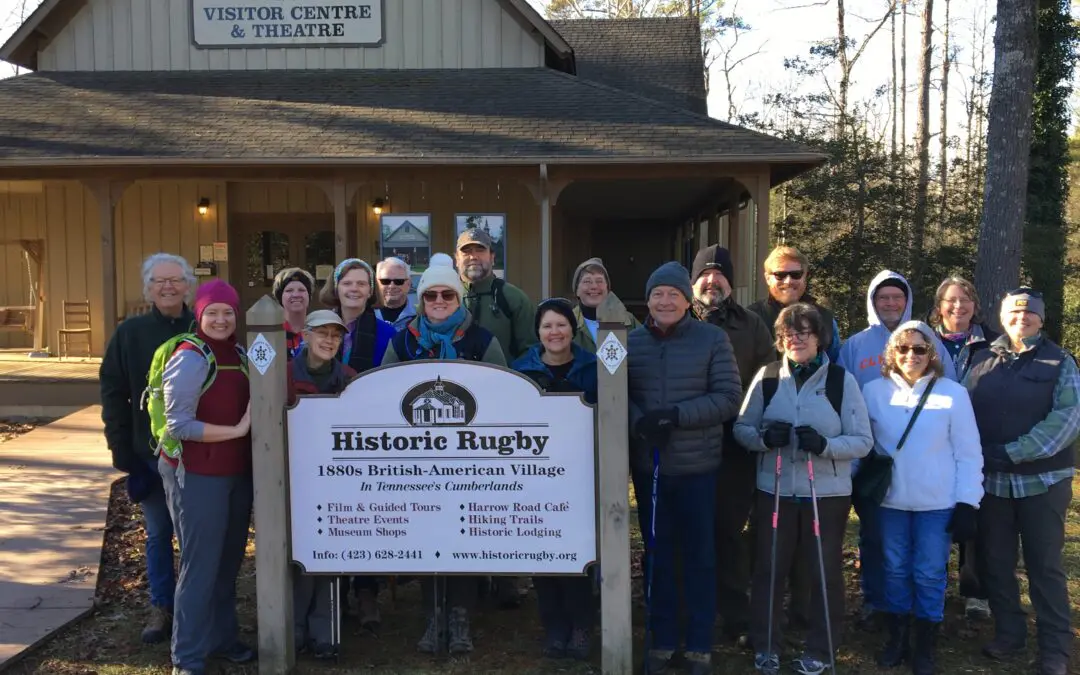 Historic Rugby is a heritage treasure listed on the National Register of Historic Places since 1972 and pursuing National Landmark Status for the Thomas Hughes Library, believed to be the oldest completely preserved public lending library in America. The National Trust for Historic Preservation calls Rugby one of the most authentically preserved historic villages in America.
Historic Rugby continues a 6-decade quest to restore, preserve and protect this unique village and interpret its fascinating history to visitors from all over Tennessee and the world.
Enjoy this well-preserved rural 19th-century village in a variety of ways.
Historic Rugby offers interpretive tours on Thursdays through Sundays during the season. Please Contact Us before you come or check the hours at the top of the home page to make certain that we are open when you plan to visit.
We also host annual and special events and free tours of our period Print Shop Fridays & Saturdays in season. Please check our Calendar to see Event dates and times. Starting June 2023 we now offer through a tour company After Dark Tours 5 nights weekly that require advance booking. Contact our partner organization to learn more about those & book one HERE.
We also offer lodging & shopping. Many other attractions are nearby. We are fortunate to be surrounded by unspoiled, protected woodlands and streams offering beautiful spots for hiking and other outdoor pursuits.
While in Rugby, there are many things you can do!
Begin at the Rugby Visitor Centre & Theatre with its 32-foot wall mural of Rugby in its heyday. Relax in comfortable Johnson Theatre seats for a 22-minute showing of the award-winning Rugby history film – The Power of a Dream. (The movie is free of charge.) Then take the guided walking tour to the 1882 Thomas Hughes Free Public Library, 1884 Kingstone Lisle (the founder's home), 1887 Christ Church Episcopal, and 1907 Schoolhouse Exhibits. Tour admission is $7 for adults, $6 for seniors (age 60 or above), $4 for students K-12, and preschoolers are free.
Events
Historic Rugby hosts many special events each year. For current information, check the Events page or visit our Facebook page. Our Calendar has the events listings for the year.
Lodging
We have three distinct lodging facilities; beautiful Historic Newbury House, a large Victorian-era inn; the smaller Percy Cottage which offers all the comforts of home; and rustic Pioneer Cottage. Our Lodging tab has all the information you need to book your stay in Rugby!
Print Shop
We have an authentic 19th Century Print Shop with letterpress printing equipment. Tour it FREE Fridays through Sundays from mid-March through mid-December. See how Rugby's early newspaper was printed!
Dining
The Canteen & Cottage Catering, with sandwiches & other takeout to be enjoyed at outdoor picnic tables, on-the-go, in our lodgings or at home is now here. Next door to the former Harrow Road Cafe. Open 10-8 Eastern Fridays & Saturdays, 10-7 Eastern Wednesdays & Thursdays. Call 931-214-1262 for advance orders. Lunch & takeout service is also available at R.M. Brooks Store daily except Wednesday & Sunday. It's a short distance down Rugby Parkway to the west, call 423-628-2533. Both take cash or credit cards.
Shopping
Historic Rugby operates the Commissary Museum Store in Rugby, which features a unique assortment of Appalachian crafts as well as vintage, antique and other handcrafted items. Rugby Parkway also boasts the Spirit of Red Hill Shop. Hours are on the home page.
The Outdoors
The scenic Upper Cumberland Plateau offers many opportunities for outdoor activities. Within Rugby itself are historic trails to the Gentlemen's Swimming Hole and Meeting of the Waters. These two trails are part of the Big South Fork National Park and Recreation Area and are accessed by the Laurel Dale Cemetery road. Also in Rugby is the Rugby State Natural Area, featuring the Massengale Homeplace and Trail.
Area Attractions
Many other attractions are nearby that can be mixed in with a visit to Rugby. Our Area Attractions page has details.