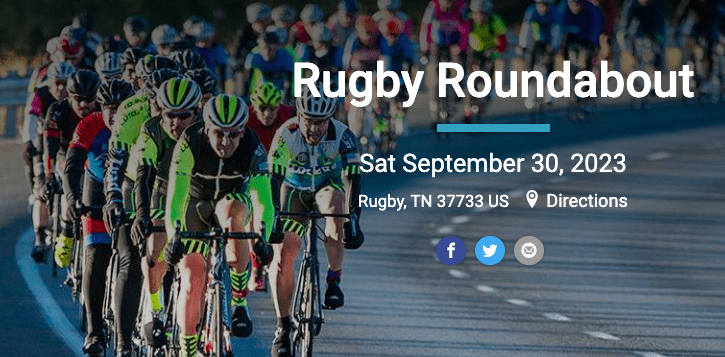 Rugby Roundabout Bicycle Race
September 30 @ 10:00 am - 5:00 pm EDT
RUGBY ROUNDABOUT
Pedal Up in Historic Rugby and ride a Roundabout through the country back roads.
Take your feet off the ground at the Historic 1880's English Village of Rugby, Tennessee and PEDAL a Roundabout through rural country roads. Riders may PEDAL BACK from ANY designated stops to enjoy food at R M Brooks Country Store.  Chow down on the best fried bologna sandwich in a country store; burgers or loaded dogs.  Listen to live music on the porch while you drink a cool beer or soda pop.  VISIT the Village, view the award-winning video, and take the guided tour. All ages welcome. End the day with Irish Road Bowling. Once you come you will want to come again.
Choose from routes ranging from a flat 10 mile "family ride" to the rolling 60 miler, complete with multiple rest stops and full SAG support.   All routes designed, marked, and supported by Race Day Events."
Gluten Free and Vegan Sandwiches available upon pre request.
Package Includes:  T-Shirt,  Lunch, Two Beers, Ticket To Win An E-Bike.
Enrollment is $55, BUT INCREASES AFTER SEPT. 24 ($60 Sept. 25-29 & $65 day of ride). Sign up soon HERE